These 5 Private Equity Firms Are Taking Aggressive Positions In Polish Retail Assets
23 October 2017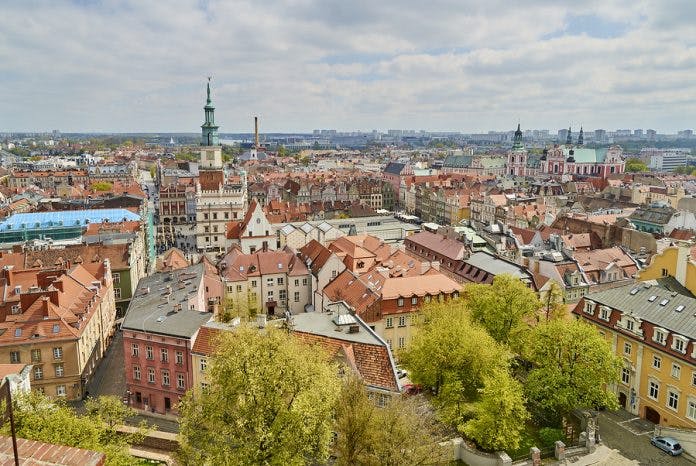 Major retail brands such as Metro (MTTWF) (Germany), Walmart (WMT) (USA), TESCO (TESO) (UK), and Carrefour (CRRFY) (France) have seen their revenue grow 2.5 times faster in emerging markets than their own home country, according to a report by global management consulting firm A.T. Kearney in 2012. As developed markets continue to stagnate, the true bright spots and future of retail are most readily identified in the emerging world.
As one of the largest Eastern European markets, Poland naturally holds prominent placement amongst investors looking for lucrative deal flow. Western European, American, and South African investors in particular have each made notable investments in the Polish retail sector of late.
Global Investors Heading to Poland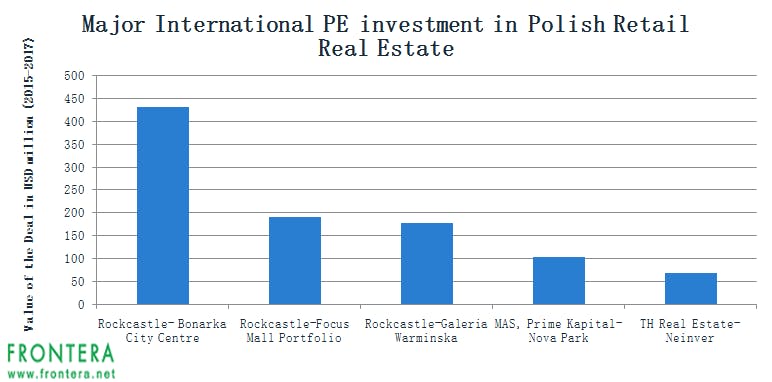 In 2015, UK based MAS real estate along with Prime Kapital has purchased Nova Park, an active retail asset from Futureal group for USD 105 million. With a Gross Lettable Area (GLA)  of 32,500 Sq M, Nova Park is one of the popular malls in Western Poland, generating around USD 7 million of annual rental income. The purchase exemplifies MAS real estate's strategy to acquire active assets that can generate growing income.
In the following year South Africa based global real estate investor Rockcastle finalized three retail deals for over USD 800 million. Rockcastle has designated further funds in excess of USD 1.2 billion to invest in active retail assets in the CEE region. In the foreseeable future, the company will continue its momentum on the Polish retail market.
In H1 2017, London based Pradera has announced to acquire 25 retail centres from IKEA in eight European countries (including four Polish centres) for USD 1,075 million. Global investment firm CVC partners is set to buy Zabka Polska, one of the largest Polish retail chain with 4500 franchised shops from Mid Europa Partners. The deal size is not disclosed but Zabka is presently valued at USD 1.8 billion- Nearly four times the value, when it was acquired by Mid Europa in 2011.
US-based pension funds are also actively scouting deals in Poland. TH Real Estate, the investment management arm of TIAA, has acquired a 50% stake in 3 retail projects in Poland – Factory Annopol, Factory Krakow and  Futura Park – from Neinver, following an investment of USD 70 million.
High Prime Retail Yields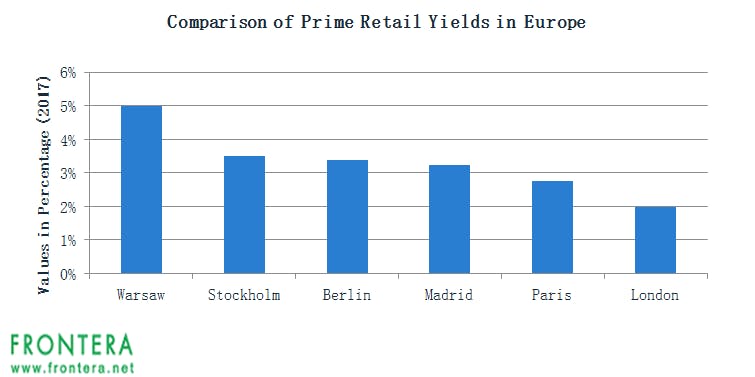 High demand, healthy economic fundamentals and a relatively less penetrated retail market are three factors that are driving Polish retail industry. As depicted in the graph above, there is a significant yield spread between Warsaw and other European cities. This will give further impetus to investors looking for income generating assets.